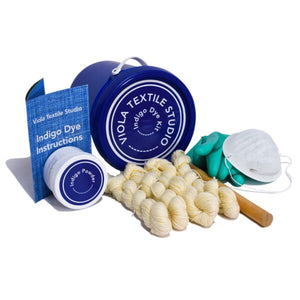 This kit and course combo is **IDEAL** for rigid heddle weavers at the beginner to intermediate skill level. We wove the scarf on the Cricket Loom, but you could also use the Flip Loom. (Loom not included with kit.) No dye experience necessary! For this kit, we've collaborated with Viola Textile Studio! Kelsey, of Viola Textile Studio carefully selected all the contents of this kit and created the clear and simple step-by-step video instructions for dyeing. Stephanie Flynn-Sokolov developed the pattern and instructions for the scarf.
Learn to dye your own yarn and weave it into a beautiful lacy scarf. We called it Moonlight Waves because it reminded us of an evening cruise, with waves rippling under a full moon. Your purchase includes the indigo kit AND the full course. So you'll learn to dye yarn with indigo, care for the indigo vat (there will be leftover dye so you can make more indigo projects), wash the yarn, direct warp your rigid heddle loom and weave the Moonlight Waves scarf.
Worried that natural indigo is difficult to work with? Nervous about harsh chemicals and lots of mess? Prepare to let go of these fears! Kelsey uses the 1-2-3 fructose method that makes natural indigo dyeing a breeze. She designed this kit to include everything—even a convenient bucket for dyeing. Once you're done with the indigo vat, the empty bucket can store your dyeing equipment (so the indigo won't stain anything you don't want to turn blue).