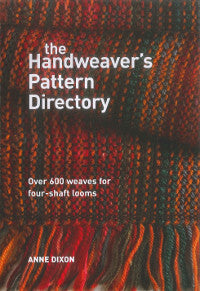 This is the book you need for your four shaft floor loom.  This book includes over 600 weave patterns with beautiful clear color photos to help you decide on the structure for your next project.
Notes from the back cover:
Create wonderful woven fabric with this practical guide to more than 600 weaves for the loom.
Organized by type, from basic four-shaft structures to block drafts and double weaves, choose from a wide range of herringbone, twill, zigzag, and diamond designs.
Each weave features a clear, photographed swatch showing the intricacies of each design as well as an easy-to-follow color chart indicating the threading sequence and order of work.