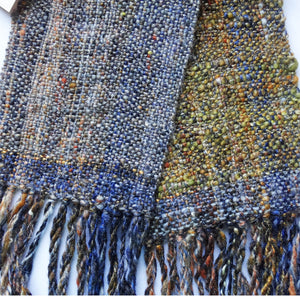 I have said many times that one of my most favorite art batts to spin in Chunky Puppy made by the wonderful Batt Ladies. That's Butterfly Girl Designs and Yorkieslave Artworks. Anything these ladies do is worth the money! In this case, the warp for this scarf is Chunky Puppy and the weft is another wonderful hand spun yarn made by Connie Elliot. Taken together, it's a wonderful scarf!
Fiber Content - Merino Wool, Rayon of Bamboo, Mohair and a bit of sparkle
Size - About 6" by 69" w/5-8" fringe
Fiber Artist - Penny Nelson
Care directions - Hand wash in warm water. Lay flat to dry.